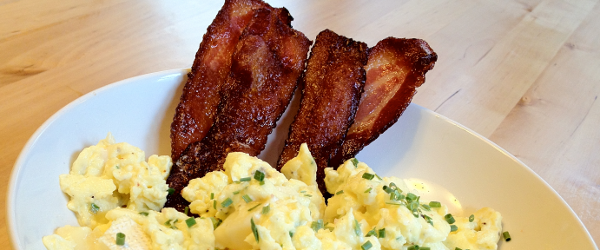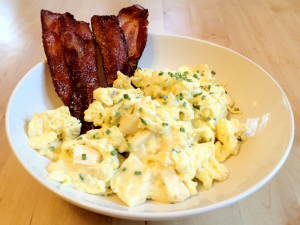 Talk about the easiest and most decadent breakfast ever! Scrambled eggs with Brie cheese and chives. This dish is so easy to make. My Grandmother always make the best scrambled eggs for me as a child. I found out her secret was heavy cream instead of milk in the mix. It makes the eggs so wonderful and creamy.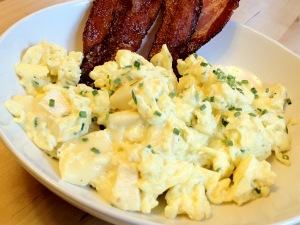 Ingredients:
3 Eggs
2 Tbs of Heavy Cream
Brie Cheese
Chives
Salt and Pepper
Break the eggs into a small mixing bowl and add the heavy cream, beat until combined. Season the mixture with salt and pepper. Slice your brie into small pieces, I used Trader Joe's Mini Brie Bites for this dish. I am not a huge fan of the rind on brie so this solves that problem for me. Add the cheese to the egg mixture. Use a nonstick pan on the stove over a medium heat. I butter the pan then add the egg mixture and stir with a rubber spatula. You want to keep the eggs moving around until they are just set. I like mine a little softer. Garnish with the chopped chives and BACON!!! Enjoy.