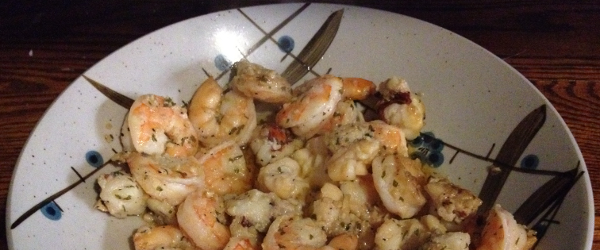 I was craving some seafood the other day and my local grocer had a special on shrimp and lobster tails so I figured it was a little thing I like to call dinner fate! There is almost nothing easier than a scampi. The ingredient list is short, prep is almost nonexistent, and cook time is less than 5 minutes. Here is what you will need: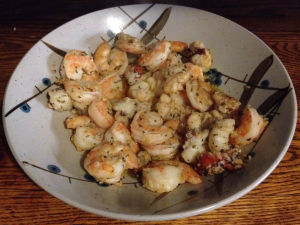 Ingredients:
Shrimp raw, peeled, and deveined
Lobster meat
Minced garlic
Butter
Lemon juice
Parsley
Salt and pepper
To complete this dish all you need to do is chop the lobster meat in small pieces, fairly similar to the size of the shrimp, to ensure even cooking. I didn't put exact measurements in the recipe because you can make as much or as little of this as you would like. Place a nice big saute pan on the stove over medium high heat. First add the butter and garlic and saute until you can start to smell the yummy goodness. Next add the shrimp and lobster. Season with the salt and pepper then finish with the parsley and a nice squeeze of lemon juice. Cook the shrimp and lobster until no longer translucent don't over cook or the meat will become rubbery. You can serve this as is or over a nice bed of wilted spinach. Enjoy!