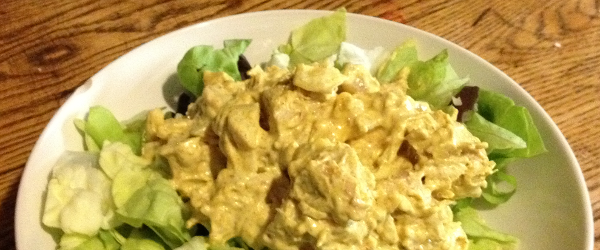 This is a recipe of my mothers that I have loved for many years, it was also a staple on the menu of the cafe my parents used to own. It is beautiful in color and bursting with flavor. This is also a huge hit at pot-lucks and parties. Another easy recipe with only 5 ingredients.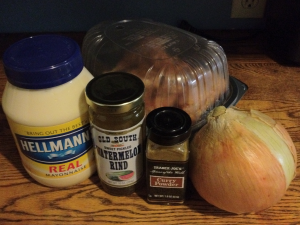 1 large Turkey Breast Skin removed and cut into 1/4/inch cubes
1 cup of onions chopped
1/4 Jar of Old South Pickled Watermelon Rind diced
2 TBS of Curry Powder
1 1/2 Cups of Mayo
Combine all ingredients in a bowl and mix well. This is a make ahead dish, as the flavors and color only get better with time. You can substitute golden raisins for the pickled watermelon rind if you cannot find it, but it really does make the dish. Keep refrigerated and enjoy for up to 1 week. I love to serve this on a nice beautiful bed of fresh spinach or butter lettuce is my personal favorite.  To lessen the carbs you can also omit the watermelon pickles. It will still be very tasty!