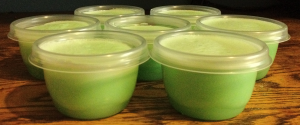 So I needed some ideas on how to best beat a sugar craving. I do really like the sugar free jello cups, but they are really expensive for what you get. I went to the wonderful world wide web and found a super simple recipe for Jello Magic Mousse. I used the sugar free jello to cut the carbs. All I used was: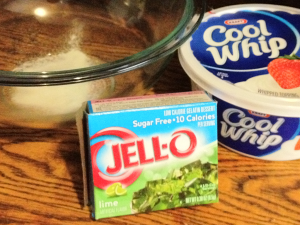 1 Box of sugar free Jello
1 Container of Cool Whip
3 1/2 Cups of Boiling water
All you need to do is combine all of the above. Pour into small containers and set overnight in the fridge! The mixture "magically" separates into 2 lovely layers. The top layer is fluffy and creamy, and the bottom layer is jello! I have also done this recipe with a couple of tablespoons of heavy cream instead of the cool whip which lowers the carb count even more and is just as good! The best is the money I saved the whole thing only cost $1.95 for 8 servings.
I like mine with whipped cream.
Ready to put in your lunch bag.