So I was totally craving Lasagna a couple of weeks into my gluten free adventure. The only thing here I had to do to make this recipe  gluten free was to substitute rice lasagna for regular lasagna noodles. To give it that pizza flavor I added mini turkey pepperonis.
I used:
1 jar of Newman's Own tomato basil sauce
1/2 pound of sweet Italian sausage
1 small container whole milk ricotta cheese
1 cup of mini turkey pepperoni
2 cups shredded whole milk mozzarella cheese
1 egg
1/4 cup parmesan  cheese
pinch of nutmeg
DeBoles Rice Lasagna  No Boil Oven Ready
Start by sauteing the sausage, when it is browned and cooked add the mini pepperoni and quickly cook until slightly browned. Next in a separate bowl combine the ricotta cheese, egg, parmesan, salt and pepper, and the nutmeg .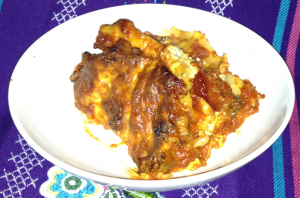 Now it is time to assemble the lasagna! One super crucial bit of information I learned about using the rice pasta is to make sure every time inch of noodle is saturated with tomato sauce. This will allow it to cook properly and not end up too firm. As long as you follow this guideline you can layer however you want. I like a nice cheesy lay between two big meaty layers. I try and not do to many layers to lighten the carb load and use a lot less pasta. Sky's the limit on this one!
Bake in a 350 degree oven for about 45 minutes or until nice and bubbly brown.. Yum this is one craving that was totally satisfying, gluten Free and delicious.