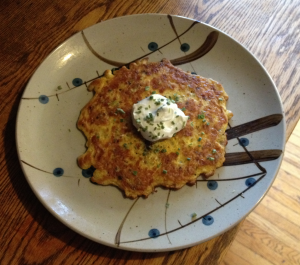 I came up with this recipe to satisfy the need for a low carb breakfast option that I could make ahead of time and would re-heat easily. This is really easy to make. This is what I used:
4 eggs
1/2 cup of real bacon bits
1 cup of shredded sharp cheddar cheese
1 cup of mozzarella cheese
1 teaspoon of chives
I mixed all of the ingredients in a bowl to make a batter. I  used a nonstick pan over medium heat and some butter in the bottom. I used a 1/4 cup of batter for each pancake. I was able to do 2 at a time in the pan.  This recipe made 8 small pancakes. I topped mine with some sour cream and more chives. It was so tasty!