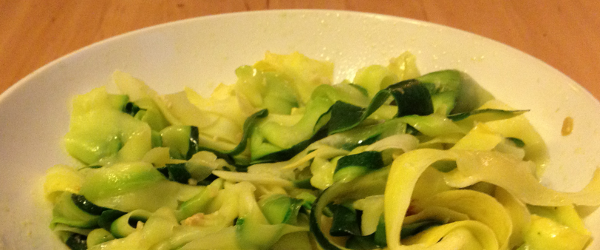 Zucchini is an incredibly versatile vegetable it lends itself to many different flavors and textures. I was having a bit of a pasta craving and have seen many recipes where they use zucchini instead and decided to give it a try. I wasn't exactly sure how to approach cutting it as my julienne peeler has not yet arrived. I decided to use a vegetable peeler and it worked great. The pieces were all the same thickness which made them cook evenly. These turned out a bit thicker like fettuccine noodles.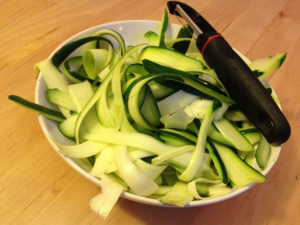 Ingredients:
2 medium zucchini
2 medium yellow squash
2 tsp minced garlic
salt and pepper
parmasean cheese
To cook them I started a saute pan with butter and garlic and let this cook for about a minute. Next I added in the zucchini and squash to the pan and let it cook for about 7 minutes or until tender. I seasoned it with kosher salt and black pepper. This will also cook down a lot so you should keep that in mind. I garnished it with a sprinkle of grated parmesan cheese. I kept it pretty simple this time but as I was making this I was thinking about all the other yummy toppings and different things to make with this wonderful veggie! As always enjoy!