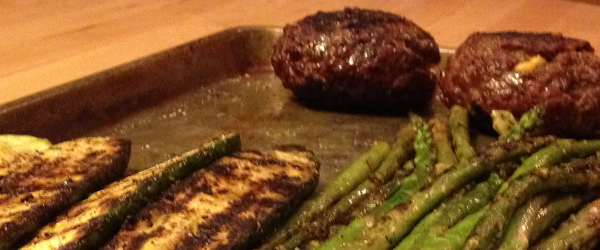 It's finally grilling season here in Minnesota.  Some may say that is never ends, but you wont see me outside grilling in my parka! What better way to kick off the season than with some juicy lucy hamburgers. You may be asking what makes this hamburger special? Its the gooey, yummy molten cheese in the middle. Patience is most important when eating one of these burgers.  If you don't let it cool down a little you will be sorry.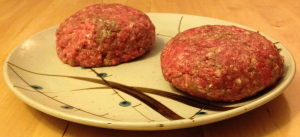 Ingredients
Ground Beef (I use grass fed organic you can taste the difference)
Kosher Salt and Black Pepper to taste
Dried Minced Onion
Cheese of your choice ( I used good old American)
Olive oil
Veggies of your choice ( I used Asparagus and Zucchini)
You are going to want to season your beef with the salt, pepper, and minced onion. The amounts will vary depending on how many burgers you're making. I had 2 lbs of ground beef and I used 1Tbs of the minced onion. I ended up with 2 huge juicy lucy's and 2 1/2 pound regular burgers. For the juicy lucy's start by flattening out 1/2 of the hamburger in the palm of your hand. Next I take one piece of american cheese and fold it over itself twice so you have a nice square of cheese.  Take the remaining 1/2 of the beef and put it on top of the cheese, go around and seal the top and bottom together. This step is important, if you don't seal it well all your cheese will squirt out and end up on the bottom of your grill instead.
To prep the Veggies you will need to lightly coat them with olive oil then liberally season with the salt and pepper.  Make sure your grill is nice and hot before you start. You want to make sure you don't "over handle" your hamburgers. Try to only turn them one time to avoid them falling apart.  Cook them how you like them. Here comes the hard part, trying not to take a huge bite out of the juicy lucy right away. I try and eat my veggies first then I wont get burned by the wonderful molten cheese! Enjoy.