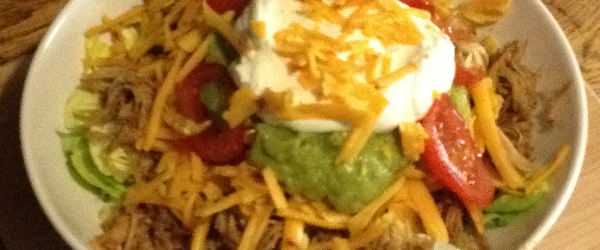 Here is another easy and fast meal for those nights when you don't have a lot of time to spend preparing meal.  I chose to stew my chicken in a wonderful chipotle flavored broth until it was "fall apart" tender. I let it simmer for about 2 hours on the stove top. You could very easily put this in the slow cooker on low all day too. I brought a salted pot of water to a boil and added the chicken breasts and seasoning packet. I brought the pot down to a simmer and just let it go until most of the liquid was gone and the chicken fell apart. It took about 2 hours.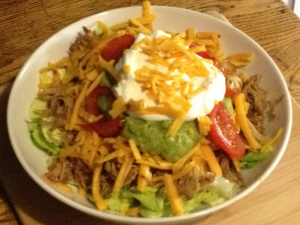 Ingredients:
1 package of boneless skinless chicken breasts
1 packet or 1/4 cup of your favorite taco seasoning (I used Ortega's chipotle seasoning)
lettuce of your choice
tomatoes
grated cheese
sour cream
guacamole
You can assemble your taco salad as you wish, there is no wrong way to do this. This dish is so delicious and low maintenance. It will serve 4 people. According  to myfitnesspal.com it has 321 calories, 10g of carb, 13g of fat, and 41g of protein per serving. I am sure this can very wildly depending on your toppings and the size of your salad. This count was based on 1/4 of the finished chicken, 1 1/2 cups of fresh express sweet butter lettuce, 1 small chopped roma tomato, 1/2 cup of grated market pantry chipotle cheddar cheese,  2 tbs of guacamole, and 2 tbs of sour cream.